by Dr. Trina Read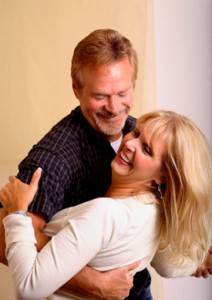 "Some people ask the secret of our long marriage. We take time to go to a restaurant two times a week. A little candlelight dinner, music and dancing. She goes Tuesdays, I go Fridays." Henny Youngman
After learning about my occupation, a very cool lady in her mid-70s did not bat an eyelash. Instead she gave me a girl's conspiratorial wink and giggled, "After the kids left home, my husband and I had our second honeymoon. It was the best time in our 52 years together."
I adore hearing stories like that. In fact, I love to watch older couples walking down the street hand-in-hand, heads together, acting as if they were brand new lovers.
That reflection of a deep love is the holy grail of sticking it out in a long-term relationship. Heck, in my opinion, successfully waking up next to the same person for thirty plus years deserves great sex as the cherry on life's sundae.
But how can a couple transcend a lifetime of kids, career—and all the extra challenges that life throws at them—to end up having a sexy second honeymoon?
Susan Quilliam, author of The Woman's Complete Illustrated Guide to Sex, wrote, "We constantly redefine ourselves as the years go by and a new phase of our life succeeds the previous ones. It is only by being fully aware of this constant redefinition of our sexual role that we can hope to experience all our sexual possibilities."
What Quilliam is trying to say is, as we age, things will change—not rocket science by any stretch. The thing is, people painstakingly take the appropriate precautions for the coming upheaval of old age: they sock away money in their pension fund, write a will, buy a retirement property, etc. They do everything but acknowledge that their sexuality will transform.
I cannot blame these people. We are a society obsessed with keeping a twenty-year-old body and sexuality. Vibrant sexuality is a key to youth and young-at-heart Baby Boomers are fighting tooth and nail not to have their life-blood fade.
The aged do not want to admit as they mature their bodies will start to slow down. Stimulation for men and women becomes dulled and achieving orgasm is no longer the "wham, bam, thank you ma'am" experience of years past. It is a hard pill to swallow. Hence the overwhelming success of band-aid cures like Viagra for men and hormone replacement therapy for women.
To be successful as an aging couple means redefining their sexual ideal—usually the female orgasms first, then the male orgasms—to sex as an overall experience of sensuality. It means shifting away from old love-making patterns to new and exciting ways to share their love, concentrating more on the erotic rather than the orgasm and making it a relaxed pleasure exploration.
Easier said than done when a couple has been perfecting the same way of making love for many, many years. Perhaps this is why so many couples give up on mutually satisfying sex long before their sexuality has expired.
Where is the couple intent on a sexy second honeymoon to start? The first step is realigning the emphasis and expectation on what is important during sex. Him having a rock hard erection and orgasm should no longer be apart of your lovemaking expectation.
Bernie Zilbergeld wrote in The New Male Sexuality about the penis in its sixth and seventh decade, "Men frequently comment that it doesn't get as hard as it used to. Physical and mental arousal are much more critical. Things that before usually produced erection—seeing one's partner undressed, kissing and hugging even watching X-rated movies—now may not do so. Penises at this age often take longer to ejaculate and they don't need to ejaculate every time. Every second or third time is fine. Ejaculation is much less powerful. Semen may seem to seep out instead of shooting out…it may be days before it can get hard again."
Maintaining an erection for an excessive length of time is troubling to some and, although ejaculation is eventually achieved, the timing is perceived as unsatisfactory for both partners. Alongside of this, their partner may feel they are unable to help, which can put a strain on the relationship.
Quilliam writes that a woman's vagina may shorten and become narrow as well as continue to be susceptible to the soreness and dryness that started with menopause. A woman's breast tissue and nipples may respond less during arousal. She may feel unsexy because her skin, hair and body are long past fitting society's ideal sex kitten model.
Ironically, Quilliam adds, unless you are injured or ill, the most effective way to offset old age is to keep making love, keeping your sexual organs strong and healthy.
The human body never loses its capacity for pleasure. The fun starts in figuring out all the new sexual possibilities with your second honeymoon hottie.
Sexologist, Dr. Trina Read, is a sought-after expert on women's sexuality.Sign up for your free monthly newsletter filled with expert videos, articles, blogs and podcasts at: www.BestSexTipsEver.com.