It May Be Just What Your Family Needs! by Dorothy Sander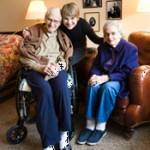 The family dynamics that come into play when caring for an elderly parent (or two) are sometimes more difficult to deal with than the actual caregiving itself. Old hurts and complex sibling rivalries can quickly bubble to the surface when important decisions need to be made. Throw in the impending loss of a parent and the grief that can live beneath the surface at this time, along with a myriad of other normal life stressors and you have a recipe for a disaster.  No matter how self aware you may be, or how well you think you can negotiate your family dynamics, an outside perspective can sometimes make things a whole lot easier.
My four siblings and I had plenty of difficult moments throughout the ten year period in which we were sharing in the care of our aging parents. We were spread out enough in age and geography to weather the storm but there was a time or two when if one of us had pushed just a little bit harder for our own agenda things might have gone differently.
The biggest challenge for me came when I proposed that my mother move in with my husband and me, rather than continue her residency at the retirement community that was eating us alive financially and about which she constantly complained. My mother was thrilled with the prospect of moving, and while I knew it would be a challenge, I felt deeply that it was the right thing to do.
My husband and I presented a detailed plan and financial analysis to my two brothers and two sisters. I was flabbergasted by their response. It was a resounding "no" to our money and misery saving proposal. There were logistical problems as my mother's place of residence was in the same town with my two sisters and we lived 3 1/2 hours away, but to this day I don't really know what all went into their decision.  All of that really doesn't matter.
What does matter is that at that moment what I really wanted to do was to defy them, and move my mother anyway. It's what she wanted.  I believed she would be happier and maybe even better cared for, but in the end I chose not to take such a bold action for a variety of reasons. My final decision was made when I asked myself, "Is it worth alienating my siblings and possibly damaging our future relationship for the remaining years after my mother's death? At ninety five, she had few by comparison. I decided it was not.  Do I regret it? More than I wish I did.
Not all families can work these kinds of issues out to everyone's satisfaction and calling in a mediator, who understands the dynamics of eldercare, may save everyone a whole lot of heartache.  "Unlike lawyers who are hired to advocate for one side, elder-care mediators function as impartial observers in a voluntary process designed to be less adversarial – and cheaper – than a court proceeding," writes Sandra Boodman in an article in The Washington Post.
According to the Los Angeles Times, "Arriving at What's Best for Elderly Parents", credentialing agencies do not yet exist for eldercare mediators but mediators are listed in a variety of places. A little research should be able to turn up one in your area. Visit any of these websites for more information:
There are training programs available if you are interested in becoming an Eldercare Mediator. You will find more information on mediator training on these websites as well.
Related Articles:
When the Family Needs an Umpire by Joshua Tapper/New York Times
Elder-care Mediators Help Resolve Feuds by Sandra Boodman/The Washington Post
Arriving at What's Best for Elderly Parents by Erin Petersen/Kiplinger Personal Finance/Los Angeles Times